Burke Mountain Montessori Staff
I completed my Montessori training and Early Childhood Education program from Association Montessori International (AMI) in 2006 and have extensive experience with this field of work. Self-discipline, knowledge, independence, as well as enthusiasm for learning are aspects that I hope to cultivate and develop within each child. I am very happy to have the opportunity to work with your child and believe that I can fulfill your child's need at this particular stage with my passion.
I have obtained my International Diploma in Montessori Studies from London Montessori and have my full licence as an Early Childhood Educator and Infant Toddler Educator. I have worked in International Kindergarten and Montessori Centres for more than 15 years starting from when I lived back home in Singapore.
Working with young children has always been my passion and love. I love to interact with them, watch the little steps that they take and enjoy the little moments which we share that bring so much joy to my heart. I strongly believe these little toddlers have such an absorbent mind. So as educators, it is our responsibility to guide them as they problem solved and provide many opportunities for them to learn life skills that will teach them independence and social skills as they grow from one level to another
I earned my Association Montessori International Diploma from the North American Montessori Centre, as well as my Early Childhood Education certificate and Infant Toddler certificate from Vancouver Career College. I also have a bachelor's degree in Library Science from the University of Korea. After earning those credentials, I continued my studies in Fashion Business in a college in Korea.
Being both patient and creative are my greatest strengths. I enjoy every aspect of being a teacher, and something I have realized in my years of teaching is that the children can teach me just as much as I teach them. This is one of my favorite things about my career.
Hello, my name is Jessie Woo and I am one of the toddler teachers. I came from South Korea in 2016 and I have been working with children for over 10 years of my career. I completed my Early Childhood Education certification after I received a master's degree in Early English Education in Korea. Later, I completed the Early Childhood Education Infant and Toddler Program at Vancouver Career College in Canada. I enjoy every aspect of teaching and have truly realized that children can teach me as much as I teach them. Therefore, all kids deserve to have a safe and proper educational environment, and it is my responsibility to help them learn and grow within it.
My name is Rina Borella I have been working with children in a variety of ages for 20 years.
I received my early childhood education, Special need and Infant and Toddler in Langley B.C.
I have since joined the team at Westwood Montessori in January 2016 and am thrilled for the opportunity in working with these families.
I obtained my ECE assistance license in 2015. After which, I started working as an assistance early childhood educator. I graduated as a full licensed early childhood educator in February 2016. Ever since, I have being working with children till date. Due to my love for children, am always on the look for fun and interesting age appropriate activities to improve their academicals knowledge, this prompted me, to go for higher learning as a Montessori early childhood educator in 2017 at capital college while I was still working as a preschool teacher. Am compassionate and can't emphasize enough how much I love this little ones, maybe because am from a large family of 9 siblings and currently I have 16 nieces and nephews that are more than dear to my heart. Seeing all the children around me always remind me of them, which I share same love with all my students. I believe that every child is born unique in his or her own way, having different needs and learning patterns from the others peers, that has to be met. That's why we are here to support them in attaining academic goals.
I got a licensed infant toddler and have been working with children for 7 years. I've always loved being around children. Children are born with unlimited amounts of potential. I believe the strongest role I can play in a child's life, is to help them realize they are capable of accomplishing anything. Being a teacher can be a rewarding opportunity to make an impact on future generations. I believe I can help children learn how to navigate the physical, cognitive and social challenges of the world while building their sense of identity and self-efficacy skills.
"Real man works with children" and YES, I have an ECE diplomat and license that give me the guidance and knowledges I need to work in this field. I also have a Montessori certificate that helps me understand the fundamental of Montessori Method. In addition, I have participated in Leadership, Management, and Administrative course provided by Vancouver Community College. With this program, I have gained a better understanding of how to run a more efficient program and provide a good quality childcare service. To further advance my education; I have also obtained both Specials Needs and Infant Toddlers diploma from Vancouver Community College. In addition to gain more experience; I also work as a Behavior Interventionist with a child with high functioning autism.
After 15 years of working in the childcare environment, I can truly say that teaching is my passion, seeing result is the reward and I believe that we can make a difference in a child's life.
My name is Connie Lin and I finished my Montessori training and Early Childhood Education program from Association of Montessori Internationale(AMI). I have been working with young children for almost two years . Also, I graduated from Simon Fraser University with major in Psychology and minor in Education. I believe that every child is different and I hope that I would be influential and be able to guide them. I am looking forward to working with your child and to know all of you!
My name is Sharon Ji. I started my new career as an Early Childhood Educator after completing my Early Childhood Education at Vancouver Career College in 2018. I am very happy to have an opportunity to work with these amazing children, parents and staff of Westwood Montessori. The experience having raised my own child gave me clear thought to how important children's early years are, and the positive impact teachers have on their growth. I know how to treat children, how to communicate with them, what is important for them. I am very self-motivated to dedicate myself to children as a qualified ECE. I am also very confident that our team can provide safe and developmentally appropriate learning environment for children.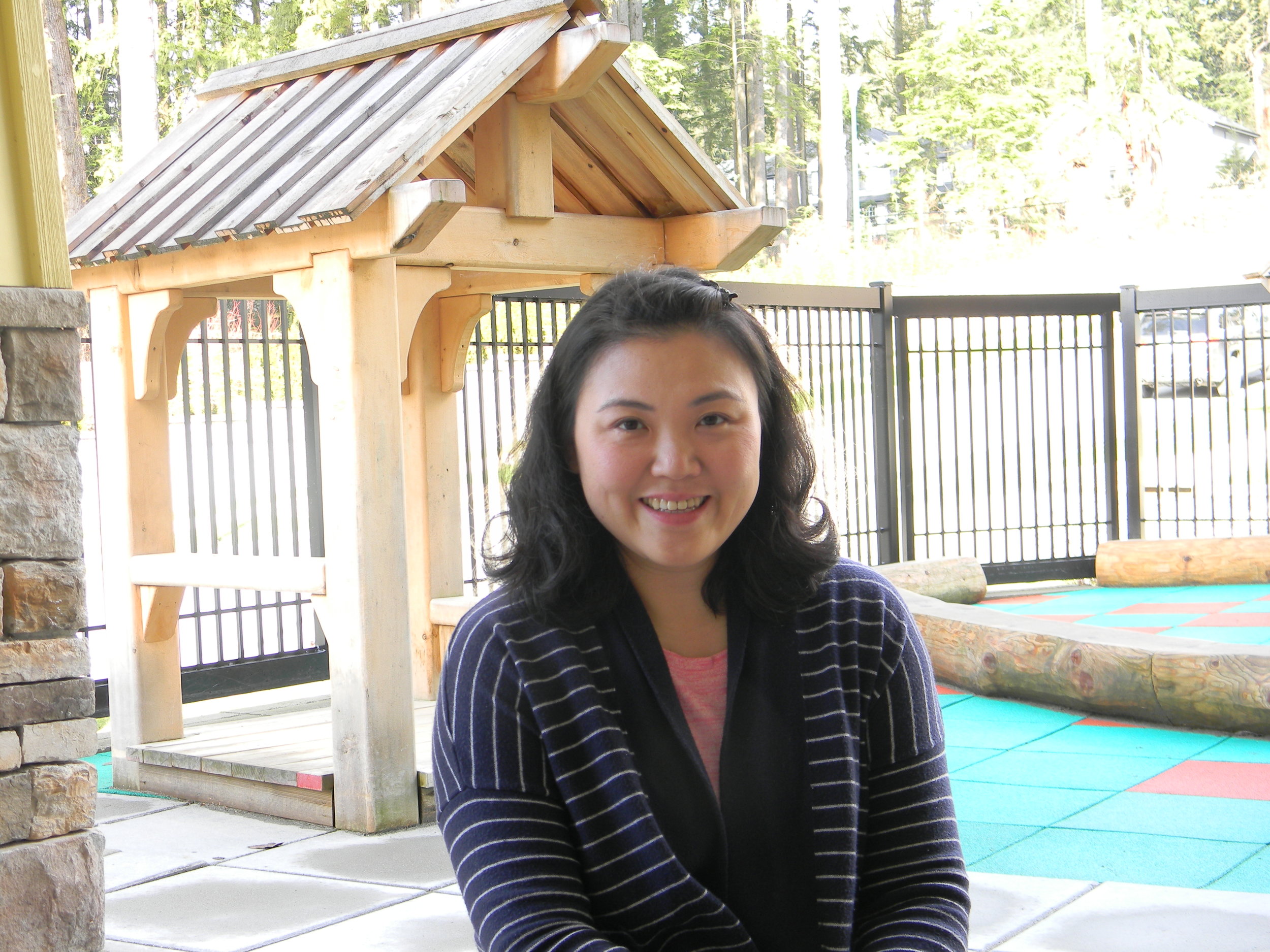 My name is Linda Ho. I have taught children in varying ages and have been working with children for the past 15 years. I received E.C.E certificate and my Montessori training in Capital College in 2014 and had done my practicum in Westwood Montessori School. I am thrilled to be part of the teaching team in Westwood Montessori School.

I am a true lover of kids. I am a certified Early Childhood Educator teacher with 20+ years of experience. I obtained my certificates from Bow Valley and Vancouver Career Colleges plus my degree and a PTC certificate from overseas. I am also a member of BC Montessori Association of Teachers. I speak English and Farsi. My strengths include the ability of boosting morale and transferring concepts to kids in exceptional attractive ways.
My name is Ruby, and I was born in Taiwan. I went from living in Taiwan to USA to Korea, before settling down in Canada. I studied ECE at Vancouver Career College and I obtained the Montessori diploma from the North America Montessori Centre. In my life, I have played (and continue to play) different roles; I am a daughter, a sister, a niece, a cousin, an aunt, a wife, and a mother. "Children Learn What They Live" is the poem that encouraged me to become a preschool teacher. It guides me and motivates me to care for the well-being of the children in my life!
My name is Lyrica chen and I am certified ECE and Montessori Early childhood teacher. I graduated from Capilano University in 2011 and I was in Tourism Management Field for couple years till I realized that my passion is in teaching the young kids. I love their smile, I love when they ask questions and they keep learning and exploring every day. It's my pleasure to come back after my mat leave and as a mother, I know I will give the best to my kid, and I will do the same to spray the love every corner in my class.
My name is Susan. I graduated from University of Victoria and received my Bachelors of Arts Degree in 1999. I completed my Early Childhood Education and Montessori training program in 2006 from Vancouver Early Childhood Education and Montessori College. I have been working at Westwood Montessori since 2012. I like to work with young children especially the age between three to five years old. Children are pure and lovely, they always surprise me in different ways and working with them is joyful and thankful.
My name is Heera Chae and I graduated with my Early Childhood Education license from Vancouver Career College in 2012.I have a Bachelors of Librarian and Information Science Degree from Yonsei University in Korea and I also have a bachelor's degree in psychology.I started working at Westwood Montessori as a teacher in 2012 and am now working in both Pinetree and Burke Mountain locations.I love working with children and look forward to meeting new faces and families every year.
My name is Ermida Ner. I finished ECE Asst in Ridge Meadows College. I also finished Office Administration including Bookkeping in MTI College Coquitlam Branch.
I work as Data Entry Clerk in Deines Microfilming Corp for 8 years in Vancouver. I also work as Caregiver for 5 years.
Then my last job is working in Daycare Center from 2012 till present. I love children and I will give all my strength and abilities in taking care of them.
Working with kids has been my dream for years. I have a BA degree in English translation and certificate in ECE modular from Vancouver career collage. My job experience, hobbies, and personality illustrate my perfection for this job. I am patient, attentive and love taking care and playing with kids, particularly the games that included physical activities. I am very happy to have the opportunity look forward to the year ahead